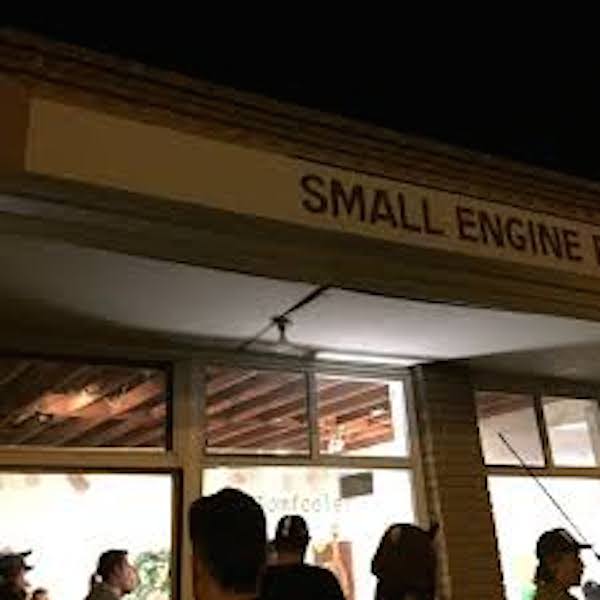 Featured on Vice!
Inside New Mexico's Body Shop-Turned-Art Gallery
Small Engine Gallery in Albuquerque shines a light on local artists.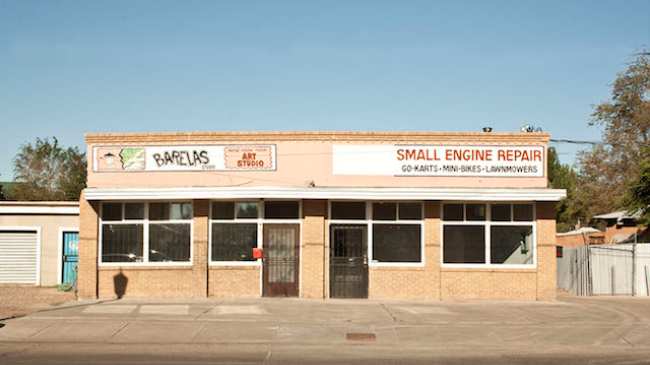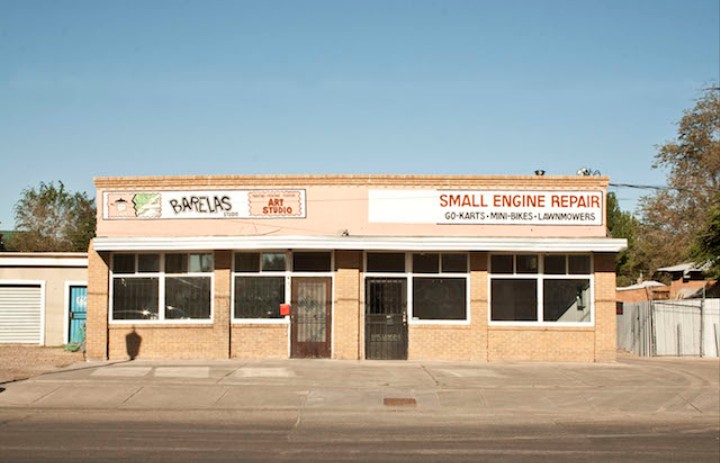 This article originally appeared on Creators.
Just south of downtown Albuquerque, New Mexico, nestled amongst railroad tracks and the Rio Grande, sits the inner-city neighborhood of Barelas, where Small Engine Gallery makes its home. Small Engine is one arm of a cooperative group of studios and DIY art spaces in Albuquerque that serve as a primary hub for local artists. Along with sister gallery/collective GRAFT, and a neighboring experimental performance space called The Tannex, Small Engine Gallery strives to create an accessible channel for local artists and the public by hosting events like solo and group art exhibitions, readings, and musical performances. One of the managers at Small Engine Gallery, Bradford Thomas Erickson, tells Creators, "our mission is simple: to provide local artists exposure without the prohibitive costs usually associated with so-called vanity galleries."
Small Engine Gallery was founded seven years ago by Raven Chacon, Scott Daniel Williams, Luke Hussack, and Mathew and Malinda Galindo. The gallery got its name from a 30-plus year old marquee painted by Frank Holmes that simply reads "Small Engine Repair" on the storefront of the building. Along with Erickson, the gallery is now managed by Luke Hussack, with help from fellow artist Jackie Riccio.
When Andy Warhol died, his will dictated that his entire estate, with the exception of a few modest bequests to family members, be used to create a foundation dedicated to the advancement and proliferation of the visual arts. Small Engine Gallery received a grant from the Andy Warhol Foundation, which Erickson says helps cover overhead costs and allows them to "operate outside the confines of a traditional commercial gallery model."
Small Engine Gallery throws monthlong solo exhibitions, as well as periodical themed group shows with open calls for entry. Their website has a submissions tab that lists proposal requirements so artists can apply via email. In July 2016, the gallery hosted the "minimum wage edition" of their annual How to Have a Good Time show. The exhibition called for works that fell under the theme in whatever manner the artist chose while thinking about the "current political trigger" of minimum wage. The year before that they hosted the 'Alcohol/Tobacco/Firearms/Weed' edition.
In addition to throwing their own events, the Small Engine Gallery works with local educators and art students at the Central New Mexico Community College and University of New Mexico. The gallery works to put on events and workshops that deliver learning opportunities concerning the real-world aspects of being a working artist, a perspective Erickson feels is often missed in traditional art school curricula.
Amidst their schedule of rotating exhibitions, the gallery has a permanent collection that they refer to as SEMoMA, or the Small Engine Museum of Modern Art. They are always asking artist to submit works to their permanent collection. Their website reads,"We house works that put into question traditional roles within contemporary art in order to usher in the millennial era of new age fine craft and artistry through interdisciplinary means."
To learn more about the goings on at the Small Engine Gallery, head over to their website.
All year, we're highlighting 50 States of Art projects around the United States, starting with Minnesota, Missouri, New Mexico, Utah, and Florida. To learn more, click here.