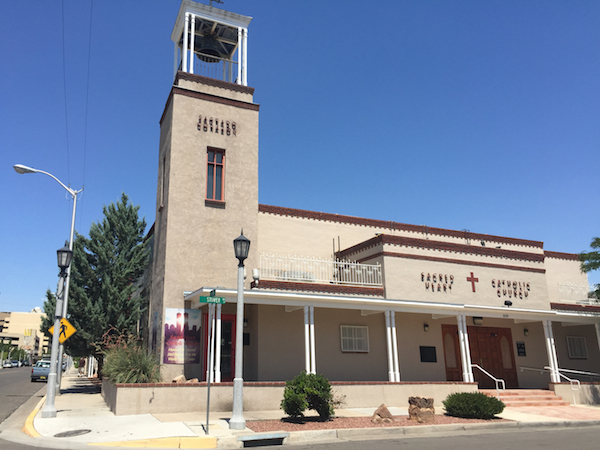 History of the Memorial Bell Tower: 
In early 2001 one of two bells that served the Sacred Heart Community was found. The Bell is over 100 years old and honors Nuestra Senora de Guadalupe de Sagrado Corazon. The parishioners of Sacred Heart committed to building a bell tower to house the newly found bell. When the terrorist attacks of September11, 2001 occurred, leaders in the community requested that Archbishop Michael Sheehan, Congresswoman Heather Wilson and others ask the City of New York for two steal beams from the World Trade Center.  The sacred steel beams serve as a quiet reminder of the death and destruction that occurred on September 11, 2001, but they also remind us that out of the dust and ashes we experience a sense of rebirth in determination and faith.
Sacred Heart Parish Policies
Parish Registration:   If you are new to the area or need to register, please contact the parish office.

Baptism:   For information on Baptism, please contact the parish office.

Marriage:   If you are planning on getting married here at Sacred Heart, you must be registered in our parish. Please contact the parish office for more information.
Quinceañera:   Quinceañera Masses are offered to families from our parish as well as outside parishes. The young lady must be enrolled in a Confirmation Program. Please contact the parish office.

Annulment:   If you have any questions concerning an Annulment, please contact the parish office.

​Bulletin Announcement Policy:   All bulletin inserts or announcements should be emailed to jclark.sacredheartnm@gmail.com by Friday, at 4:30pm for the following Sunday's bulletin. Please make arrangements to adhere to this policy.