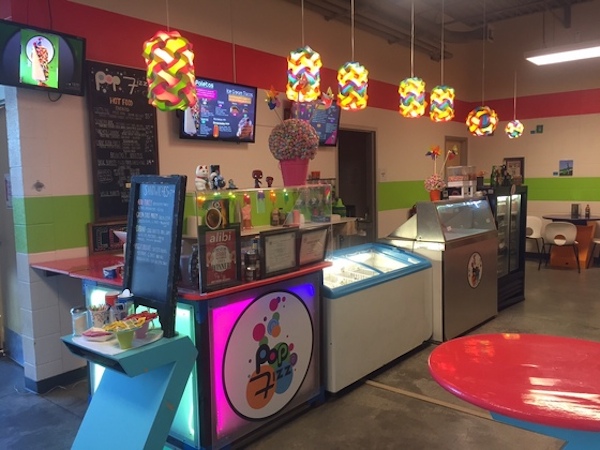 We cater! Book our food truck for your next event, or visit us at our main location at the National Hispanic Cultural Center or our Paleta Express Drive-Thru at 1701 Fourth St. NW in Los Ranchos!
MENU
Favorites
Sonora Dog
Grilled Nathan's hot dog, bacon, avocado, cheddar cheese, onions, chipotle mayo, and salsa verde on a toasted hoagie roll.
5.95
Frito Pie
Frito corn chips, nacho cheese, pinto beans, pork, red chile, cheddar cheese, lettuce, onion and tomato.
6.30
Carne Asada Fries
Crisp french fries topped with jalepeño lime marinated steak, cheddar cheese, guacamole, sour cream, chipotle mayo and cotija cheese.
7.95
Nachos Grandes
House-made tortilla chips topped high with beans, pork, cheddar cheese, nacho cheese, sour cream, guacamole and jalapeños.
7.25
Chile Cheese Fries
Cheddar and nacho cheese topped with RED, GREEN or CHRISTMAS
4.95
Jumbo Burritos
Carne Asada Burrito
Jalapeño lime marinated steak, fries, beans, cheddar cheese, sour cream, guacamole, chipotle mayo and cotija cheese
8.50
El Ranchero Burrito
Marinated pork, bacon, beans, fries, cheddar cheese, red chile and sour cream.
8.50
Bean, Cheese, and Potato
Beans, Cheese, French Fries inside
4.95
Veggie Burrito
Mushrooms, Onions, Tomatoes, Hatch Green Chile, Beans, Fries, and Swiss cheese.
6.95
Sandwiches
AlbuTurkey
Oven roasted turkey, Hatch green chile, cheddar cheese, and avocado.
8.50
Pop Fizz Cubano
House roasted pork, ham, Swiss cheese, pickles, mayo and mustard on a buttery bun. *Try it with jalepeños*
8.50
Kids Of All Ages
Quesadilla
Cheddar cheese and large flour tortillas.
3.95
Hot Dog
Nathan's hot dog on a buttery bun.
2.99
Nachos
Chips, cheese, and jalepeño (or leave them off for the kiddos)
2.50
Snacks
Churros
Two freshly made churros. Add chocolate for $0.99.
2.49
Churros and Soft Serve
4.99
Churros and Hot Chocolate
4.29
Fruit Paletas
All Natural with Real Fruit and Real Cane Sugar.
$1.99
Strawberry, Lime, Mango, Mango Red Chile, Piña Habeñero, Cucumber Chile Lime, Watermelon
Mangonada
$2.99
Mango Paleta with Chile, Salt, Lime, and Tangy Chamoy Sauce.
Cream Paletas
All Natural like our Fruit Pops, but smooth and creamy
$2.49
Coconut, Mexican Chocolate, Pecan Cajeta, Cafe Con Leche, Vegan Cookies and Cream, Matcha Mint, Pistachio, Dulce de Leche
Ice Cream Tacos
Ice Cream stuffed in a waffle cone taco shell and topped with chocolate!
$4.99
*Ask About Our Special Flavors*
Mint Chocolate Chip, Chocolate, Vanilla, Cookies 'n' Cream, Horchata
Shakes
Milk and ice cream blended into smooth, shakey perfection.
$5.49
Vanilla, Chocolate, Strawberry, Coffee, Cookies and Cream, Mint Chocolate Chip
Floats
2 scoops of ice cream and your choice of soda. Topped with whipped cream.
$4.99
Creamsicle – Orange Soda.Vanilla Ice Cream
Purple Cow – Grape Soda.Vanilla Ice Cream
Snow White – Lemon/Lime Soda. Vanilla Ice Cream
Black Cow – Coca-Cola. Vanilla Ice Cream
Vaca Roja – Strawberry Soda.Vanilla Ice Cream
Rootbeer Float – Rootbeer.Vanilla Ice Cream
Spongebob
Boozy Shakes
21+ Adults Only! A treat to take the edge off. Treat yo' self!
$8.49
Bananas Foster – Vanilla Ice Cream, Bananas, Caramel, and Captain Morgan Spiced Rum
Mudslide – Vanilla Ice Cream, Chocolate Syrup, Kahlua, Skyy Vodka
Thin Mint – Vanilla Ice Cream with Mint schnapps and chocolate syrup
Irish Coffee – Vanilla Ice Cream, Baileys Irish Creme, Kahlua, and Maker's Mark Whiskey
Horchata – Vanilla Ice Cream and Fireball Whiskey